Access / surrounding area
Train station・Airport・pick up/drop off
Matsusaki lies at the end of roads a bit less-travelled.  To the degree possible, we will pick up and drop off every guest (in groups of two or greater; please inquire for single-person drop off or pick up).
JR Komatsu Station
Required travel time
20 minutes
For guests coming by way of Kansai (Kyoto/Osaka), Fukui, Chūkyō and Maibara please schedule your route to end in Komatsu. Except for a few of the Thunderbirds, almost all of the express trains stop at Komatsu.
JR Mattō Station
Required travel time
20 minutes
Guests coming by way of Kanto/Tokyo, Nagano, Toyama, and the Hokuriku Shinkansen please use Kanazawa Station. At Kanazawa transfer to the local train for Mattō. Also when returning from Kanazawa area sightseeing trips, please come to Mattō Station.

We support local arrivals at Mattō at [Through March→12:38、13:39、14:12、15:11、16:04、16:48、17:14、and 17:46] [From April→13:39、14:38、15:35、16:03、16:48、17:14、and 17:46] Please request your Mattō Station pick up at least one hour prior.

Outside of the scheduled times, please wait in the station waiting room. Right near Mattō Station are Chiyome No Sato Haiku Museum and the Mattō Nakagawa Kazumasa Memorial Museum, so if you find yourself with some free time there, please consider having a look.

Also there is regular bus service from Kanazawa city local routes to Tatsunokuchi.
Komatsu Airport
Required travel time
25 minutes
Flight Arrival and Departure Information
Check-in,Check-out
2:00 p.m. Check-In
Guests planning to arrive by car before 3:00 p.m., please let us know in advance so that we can ensure an open parking space for you.
11:00 a.m. Check-out
Sightseeing
Tatsukuchi Onsen is located in the foothills of the Ryōhaku Mountain Range, with the Tedori River and Gorge, in full view of the sacred Mount Hakusan and surrounded by some of Japan's most beautiful nature.Historical Manyo Era events (pre-dating the foundation of Japan), the burial mounds of ancient kings "kofun," and various ruins dot the countryside.  Abundant culture facts like "kutani" pottery, "Wajima nuri" laquerwares and indigenous "kinpaku" gold leafing can be found near here at the center of the former Kaga Kingdom.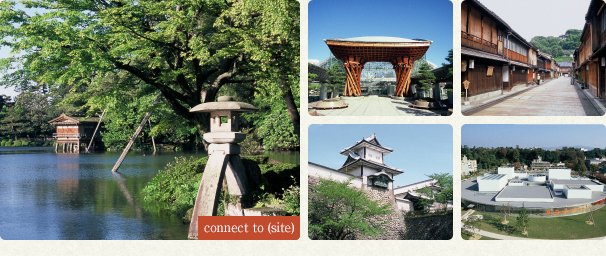 Kanazawa Sightseeing

:30-:40 minutes travel time by car
The "Kaga Hyakumangoku" (Kaga Million Bushels) history and culture that gives this region its character is seated in the four seasons, abundance of clear water, pristine rice fields and gorgeous vistas. Much more recently, with the addition of the 21st century art museum, domestic and international art exhibits have become enormously popular with visitors.

※Inquiries to the Sightseeing Association of Kanazawa
Kenroku-en

:40 minutes by car
The landscape garden of the Hyakumangoku Maeda Clan, "Kenrokuen" is generally regarded as one of the nation's three most treasured gardens. It is next to Kanazawa Castle and the 21st century art museum.
Ishikawa Pref. Kanazawa city Kenroku-machi 1-4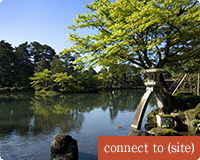 "Higashi Chaya Gai" The Eastern Tea House District

:45 minutes by car
This neighborhood is the remainder of a more extensive latticework of shops and backstreets from days long past. In the evening can still be heard the happy sounds of the "Shamisen" (a three-stringed traditional instrument) and "Taiko," the Japanese drum.
Ishikawa Pref., Kanazawa city, Higasiyama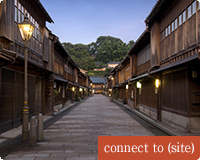 "Kutani-yaki" pottery studio

:10 minutes by car
The history of Kutani-yaki begins here. Since the Edo Period, this local specialty has been produced, exhibited and used in millions of Japanese homes.
Ishikawa Pref., Nomi city, Izuminodai Machi Minami 56